Close
Fit: Large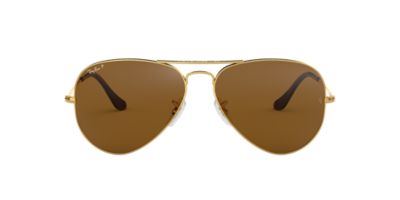 Click and drag to rotate
Email a Friend
Let your friends and family know about this favorite
Close
Zoom Out Zoom In Rotate Clockwise Rotate Counter-Clockwise
Close
Product Information
Style: Aviator/Pilot, Wrap
Frame material: Metal
Lens material: Glass
Case Type: no case
Fit: Large
Eye Size: 62
Bridge/Temple Size: 14/140
Looks best on these face shapes:
Heart, Oval, Square
This is the style that started it all. The original Ray-Ban large metal aviator in size 62mm in gold with brown polarized lenses that keep undesirable light from reaching your eyes. Ray-Ban polarized lenses boast a perfectly layered construction of glass and polarized film. The result is a high-performance lens that truly protects your eyes.

The Benefits of Polarized Lenses: Polariz… Read more +
X close
This is the style that started it all. The original Ray-Ban large metal aviator in size 62mm in gold with brown polarized lenses that keep undesirable light from reaching your eyes. Ray-Ban polarized lenses boast a perfectly layered construction of glass and polarized film. The result is a high-performance lens that truly protects your eyes.

The Benefits of Polarized Lenses: Polarized lenses improve clarity allowing for enhanced depth perception and visual accuracy. Additional benefits of polarized lenses include: glare reduction contrast enhancement and reduced strain on your eyes. Polarized lenses are especially valuable to those with light sensitivity. Whether used for sporting activities or everyday uses like driving, polarized lenses can help boost your performance.
Rated 5 out of 5
by
mea024
from
Classic style that lasts through time
These were my first pair of Ray Bans. I went to the store in Georgetown, Washington D.C to purchase the original Wayferer but once I tried these on, I was sold. I bought these because they are very versatile, can fit a variety of face shapes and the style is very classic. You can wear the aviators with a casual outfit or be a little dressed up. Most importantly, these glasses will not go out of style; so in 20 years you will still be able to wear your aviators. I love mine :)
Date published: 2014-03-25
Rated 5 out of 5
by
pbandj
from
Great Customer Service
When i went into Sunglass Hut in Brentwood, ca i was greeted very kindly and was helped with everything i had a question on. I was able to try on the sunglasses i was hoping to try on and now i know exactly which one i wasn't to purchase when i go back in! The customer service was a ten all around! I also work in customer service and i understand how it is at times very busy and can get stressful but I was treated with up most respect while other customers were in there also and left with regretting buying those ray ban aviators i wanted so badly! I know i will be treated great the next time i go into buy the sunglasses i want.
Date published: 2014-03-18
Back to top