Close
Fit: Standard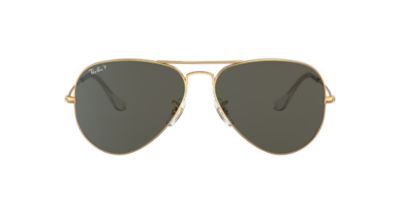 Click and drag to rotate
Email a Friend
Let your friends and family know about this favorite
Close
Zoom Out Zoom In Rotate Clockwise Rotate Counter-Clockwise
Close
Product Information
Style: Aviator/Pilot, Wrap
Frame material: Metal
Lens material: Glass
Case Type: no case
Fit: Standard
Eye Size: 58
Bridge/Temple Size: 14/135
Looks best on these face shapes:
Heart, Oval, Square
These are the sunglasses that started it all, the Ray-Ban AVIATOR™. Originally designed for the U.S. military fighter pilots in 1937, this updated version has a sleek gold metal aviator frame in size 58mm and green polarized lenses adding a bit of mystery to your look. And with superior clarity and 100% UV radiation blocked to 400nm (exceeding the US standard), they not only look good, but a… Read more +
X close
These are the sunglasses that started it all, the Ray-Ban AVIATOR™. Originally designed for the U.S. military fighter pilots in 1937, this updated version has a sleek gold metal aviator frame in size 58mm and green polarized lenses adding a bit of mystery to your look. And with superior clarity and 100% UV radiation blocked to 400nm (exceeding the US standard), they not only look good, but are easy on the eyes.
Rated 5 out of 5
by
Jackyjacky
from
RayBans
Love,love, love always getting compliments I look fabulous , a style that has remained timeless over the past century makes you look sexy, serious, edgy it has all the looks you want great purchase and I don't regret purchasing them to the point that they fell and cracked and the next day went and purchased exact same ones again
Date published: 2014-03-18
Rated 5 out of 5
by
nonentity
from
A Must Have Classic
I always turn to the rb3025 for a great classic aviator style. I've gone through multiple pairs of these sunglasses in different colors. Aviators are the best style for just about everyones face, you honestly can't go wrong! I love the way they look, and I get complimented on them ALL the time. Ray-Ban is a fantastic brand and I will continue to by this style, as well as others I've branched off too, for a long time!
Date published: 2014-03-10
Rated 5 out of 5
by
Blake
from
definitely classics
Everyone should always have a pair of classic ray-ban aviators! Especially the polarized pairs!! I love the polarized lenses and have always been a fan of the aviator style. Definitely would recommend the aviators with polarized lenses
Date published: 2014-03-08
Rated 5 out of 5
by
Bulldog01
from
Polarized Aviators
Great sunglasses. Buy polarized lenses unless you intend to wear them in an aircraft cockpit. Eye glass case a bit flimsy and could be of better quality and construction.
Date published: 2013-08-09
Back to top