Close
Fit: Standard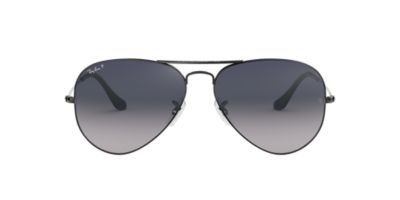 Click and drag to rotate
Email a Friend
Let your friends and family know about this favorite
Close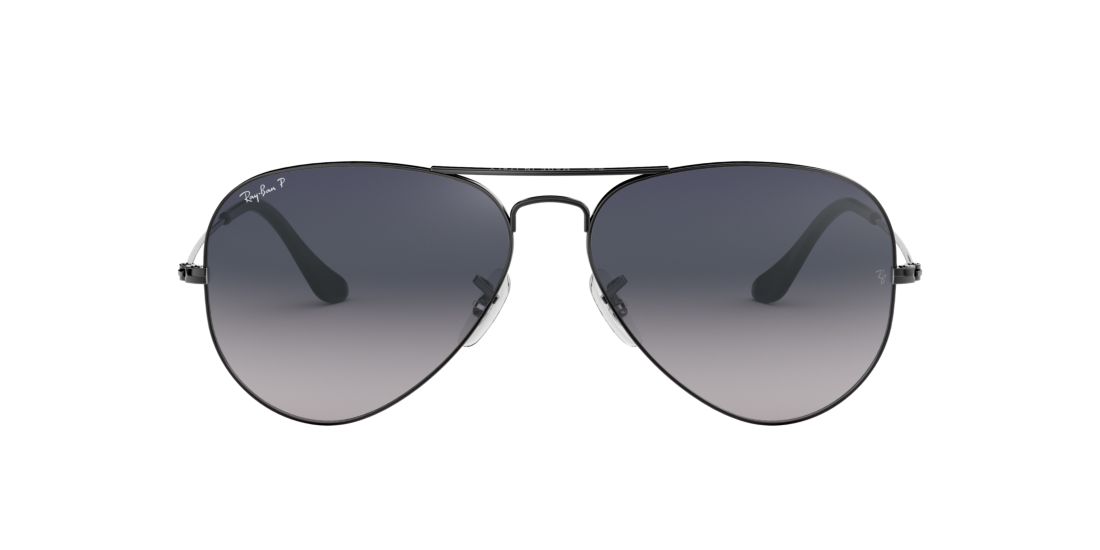 Zoom Out Zoom In Rotate Clockwise Rotate Counter-Clockwise
Close
Product Information
Style: Aviator/Pilot, Wrap
Frame material: Metal
Lens material: Glass
Case Type: no case
Fit: Standard
Eye Size: 58
Bridge/Temple Size: 14/135
Looks best on these face shapes:
Heart, Oval, Square
This is the style that started it all. The original Ray-Ban metal aviator in size 58mm in gunmetal with grey gradient and polarized lenses that keep undesirable light from reaching your eyes. Ray-Ban polarized lenses boast a perfectly layered construction of glass and polarized film. The result is a high-performance lens that truly protects your eyes.

The Benefits of Polarized Lenses: Po… Read more +
X close
This is the style that started it all. The original Ray-Ban metal aviator in size 58mm in gunmetal with grey gradient and polarized lenses that keep undesirable light from reaching your eyes. Ray-Ban polarized lenses boast a perfectly layered construction of glass and polarized film. The result is a high-performance lens that truly protects your eyes.

The Benefits of Polarized Lenses: Polarized lenses improve clarity allowing for enhanced depth perception and visual accuracy. Additional benefits of polarized lenses include: glare reduction, contrast enhancement and reduced strain on your eyes. Polarized lenses are especially valuable to those with light sensitivity. Whether used for sporting activities or everyday uses like driving, polarized lenses can help boost your performance.
Rated 4 out of 5
by
msingh2011
from
Excellent buy
On the whole, really pleased with my purchase of this particular Aviator. The glasses are great and have provided a very practical use. I use mine, a lot, whilst driving and I have no complaints about the lenses or the frame. My only caveat is that the glasses case provided is not ideal if you want to whip off the glasses and throw them into the bottom of your bag. Wish I had considered this at the time of purchase, hence my 1 star deduction. I'm really pleased with the frame and colour, as it is not to 'bling' (just enough though!).
Date published: 2011-10-16
Rated 5 out of 5
by
Kayla
from
Great
I bought this and couldn't have been happier! It looks great and it feels great!
Date published: 2011-10-14
Rated 5 out of 5
by
asingh0412
from
Awesome Awesome Awesome sunglasses I ever had..!!!
These are awesome sunglasses I ever had and the color is just beautiful. I never tried any other brand anyways but Ray ban is at its best. My DAd always had a RAy ban, I think for more than 20 years, he's been wearing RayBan's. So I can't go with any other time of glasses.
Date published: 2011-09-30
Rated 5 out of 5
by
Codeman1992
from
Aviators Rock!
My Aviators are the best investment I could have made on sunglasses. I have had mine for almost 4 years now and they are still as good as new! I will only buy Ray-Bans!!
Date published: 2011-09-27
Back to top